← Indietro
30th Year Jean Monnet Program Erasmus Event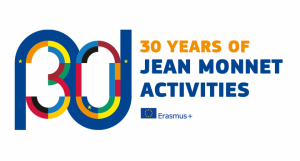 The European Commission celebrates the 30th anniversary of the Jean Monnet Activities through a series of events and other initiatives around the world.
Past and current Jean Monnet beneficiaries and success stories are encouraged to celebrate with us through debates, conferences, workshops, public debates and other activities engaging with students, policy makers and civil society.
The European Commission will be present in the European University Institute's State of the Union event on 2 May in Florence.